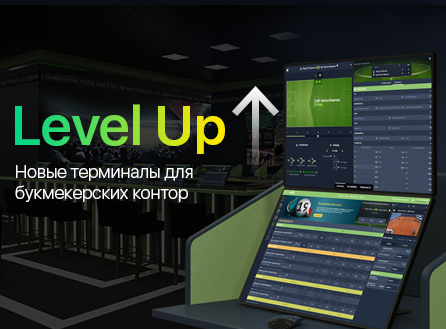 Level Up for Bookmakers: Terminals 2.0
Added
Rub90 introduces dual-screen terminals - updated tool for effective offline operating. This product's outstanding feature is its ability to adapt to the needs of clients playing in specific betting shop.
This means that either single-screen or dual-screen solution may be used depending on the betting shop class and size.
Selection of the operation mode between mouse and touchscreen is also available.
New terminals will extend the list of services available for player and increase number of stakes per unit time and at the same time cut costs and increase level of clients loyalty. For these reasons partners will certainly be pleased with the new version of betting terminals.
Advantages for partners:
- Terminal in standby mode can be used as an additional advertising medium. Previews of interesting events and messages about new products and services can be placed on screen.
- Updated terminals give opportunity to eliminate issues, which distract clients. Such issues include queues to cashdesks, long time waiting for placing a bet, cashiers' mistakes.
- Placing terminals inside betting shop is a method of extending its working hours without additional staff costs.
Benefits for players:
- Live Center is a great opportunity for player to keep track of match incidents and to get the most accurate information thanks to real-time statistics and visualization of all match high spots. And as player gets more confidence in match result, his or her belief in getting prize becomes stronger!
- Through the use of Live Streaming players can keep eye on course of the match in real-time manner without need for switching between streaming and betting interface.
- Terminals also allow to play betting games during intermission between matches or while waiting for the betting results. Besides that, sporting and gaming Jackpots status can be followed via terminals.