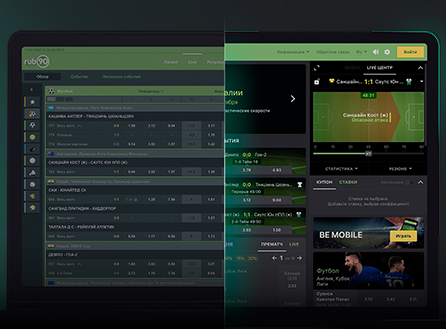 Breaking news! Gaming site updates
Added
The Rub90 team expands its ability to accept sports betting once again. To the partners' attention - an updated version of the gaming site.
In addition to the basic functions aimed at meeting the basic needs of customers, there were
innovations designed to make the game even more comfortable.
So, taking into account the current trends in operating and the main scenarios of consumer behavior, the following improvements have been implemented:
- easy navigation with widgets (Main Events, Popular, Top Leagues, Express of the Day,
etc.);
- event search function added by users' requests;
- Express of the day with bonus coefficients (10%, 15% and 20% bonuses are provided, depending on the number of events in the express), available both as a widget on the main page and as a separate section;
- various options for visualizing the progress of sporting events (online video broadcasting, graphical display of the situation on the field, and score);
- the appearance of the Sport section, which became unifying for Prematch and Live events, previously divided (ability to view the Live section was separately saved);
- adding the Today section optimized for the main consumption scenario, in which, for the the user's convenience, coming soon events are collected (up to 24 hours);
- transformation of the Personal Account, which allows to display more useful information for a player.
In addition, the site's architecture has been changed: this is done for the fastest introduction of new products both to the partners' site (desktop and mobile versions) and also to the terminals.
In the form of an updated gaming site partners get an effective tool to attract and retain players.